Walking outdoors is excellent for improving our physical and mental health. Hence, hiking is one of the sports that most beneficial to health. If we accompany that walking through beautiful landscapes or unique corners, then it becomes a more rewarding experience.
In this post we are going to give a series of tips so that your experience is as enjoyable as possible and that you can enjoy the practice of hiking with all the guarantees.
1. Planning.
The first thing before doing a hiking route is to know what you will need to make the route. Mainly we must be clear about the route, its difficulty and the weather conditions that we are going to find that day. We must also be clear about the duration of the tour to know if we are going to camp (if this is possible) or we have to spend the night during the tour in a hostel or nearby town.
So therefore you need:
Have a map of the route, duration and difficulty.
For this you can be useful this publication that shows a list of articles
Necessary for family hiking. Make a List of things we are going to
need.
Organize reservations, permits and travel logistics.
2. Appropriate footwear.
It is something we all know but good boots are the key tool for a hiking route. You should look for a model that is waterproof, technical, comfortable and suitable for the type of terrain you are going to tread. It is also very important that before making a long route you release your boots beforehand, you do not want to find yourself in the middle of a route with uncomfortable footwear and that causes chafing or blisters without being able to do anything. That's why it's important to get used to new shoes and see if they fit your foot before putting it to the test.
3. Always hydrated.
The water is essential and more if you do this activity in very hot weather. It is best to have a canteen that can be hooked in the backpack so you do not have to take it off and look for it every time you get thirsty, that if you carry many things in the backpack it becomes a task of the most cumbersome.
Another very useful hiking tip is to carry, at least, a liter and a half of water to maintain proper hydration. If the route is going to be very long, you can carry another one inside the backpack and fill it when you make a long stop.
When it comes to hydrating we will choose water or isotonic drinks (never carbonated soda). In the event that our route is going to be prolonged or requires considerable physical effort, we must add mineral salts to our water.
4. Dress in layers.
Regardless of the season of the year in which you are going to make the route, the temperature changes while hiking are always high, hence it is best to dress in layers, in order to evaluate along the route if you have excess or lack clothes and put on or take off the layers that are necessary.
Always wear garments as thin as possible and tight to avoid losing mobility and that garments that are too wide do not get caught on all the branches and protrusions that we find on the trail. Avoid fabrics such as cotton, and always try to use technical fabrics, in case they get wet (rain, fall into a river or sweat), as they dry very quickly … And never take your jeans to the mountain, because if for some reason they get soaked you could not even walk with them on.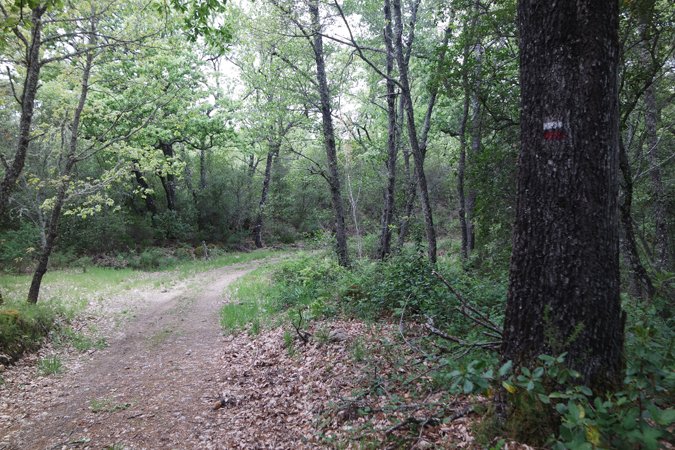 5. Backpack always with lumbar support.
No matter how much love we have for that old school bag, the time has come to say goodbye, it has suffered enough.
Use a backpack that not only has shoulder supports, but also has support in the lower back and hips. In addition, it must be light and with the necessary capacity for your travels. And do not forget to distribute the load inside the backpack correctly.
If you choose the backpack well and adjust it correctly, you may even forget that you are carrying it.
6. Use canes.
The poles are economical, they are light and are of great help in the mountains. They help us to unload much of the weight of our joints, they also offer us extra stability and help us to separate orObstacles that we find on the way due to lack of maintenance of the trail.
In the ascents you will have to shorten them and in the descents lengthen them, and when you walk flat your elbow when holding the cane should form a right angle. So the ideal option is telescopic poles.
7. Protect yourself from the sun and cold.
Always remember to put on sun protection, ultraviolet radiation is more aggressive in the mountains, and also have hydrated skin prevents cuts and cracks in the skin by wind and cold.
The feet, hands and head are the three main sources through which heat sneaks or escapes. Hence, we must wear them well covered. Get some good socks and wear a hat or visor to avoid the cold in winter and the sun in summer.
8. Short stops and light meals
Stop along the way to enjoy the views, the scenery or to breathe in the fresh air, but in moderation. Do not stop constantly, this will make the route much longer and make it difficult for us to follow the same pace.
Also when you do it for lunch or lunch, try that these stops do not exceed 15 or 20 minutes, and take a light lunch. The best would be a snack and fruit.
9. Notify your family or friends
Before starting any hiking route or activity, inform a trusted family member or friend about the exact route you are going to take and the estimated time. So if it happens that you get lost or suffer an accident and you can not contact the emergency service, they can do it for you and make your location faster and easier.
No matter how experienced you are, never do a route alone and if you can do it with an expert guide. Also remember that a route is more enjoyable when it is traveled in a group.
10. Essential things to carry in your backpack
And to finish a review of useful things that can not miss in the backpack:
Energy bars, for emergencies. They occupy and weigh little, and they can come in handy if we have a "downturn" or if we delay for whatever reason.
The mobile, for emergencies, both to notify and to locate us. Try to keep the battery fully charged before heading off the road. If the route is relatively long it is better to carry the mobile in airplane mode to save battery.
Small multipurpose knife.
Flashlight, in case for whatever reason we catch the night.
An external battery to be able to recharge the mobile if necessary.
A small first aid kit.
A raincoat or windbreaker and spare clothes.
A couple of plastic bags to pick up trash or protect things from the rain.
Spare laces for footwear.
There are thousands of tips, but these are the "tricks" we know. Can you tell us yours?
---
The costs of this blog are covered by affiliate links, which make us earn a small commission if you book a product through them. It has no additional cost to you and the links are only to sites that we recommend and that we have used ourselves.
Artículo publicado en rutasporespana.es/blog